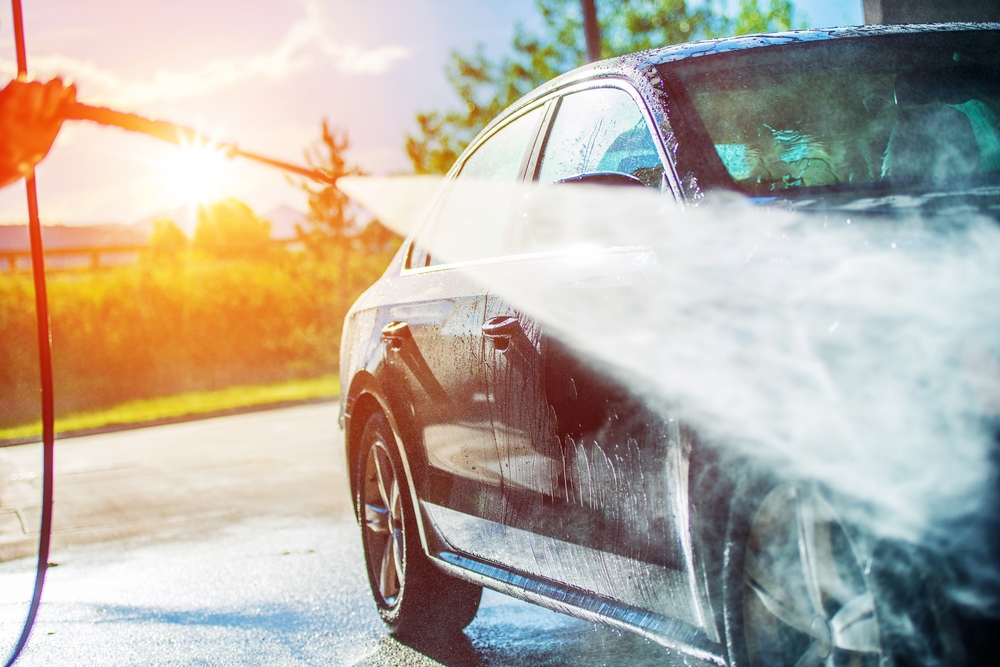 Many people choose to wash their cars at home, believing that it's greener, cheaper, or faster than using a carwash. If you're one of them, you might be surprised to learn that none of these things are consistently true—and there are even more reasons why you should swap to using a professional car wash next time you want to bring your pride and joy back to beautiful.
You use less water
Many people mistakenly believe that washing their car at home uses less water than a professional car wash. The fact is that the opposite is true. When you wash your car at home, you're likely to use the hose, which you'll leave running for a period of time.
This can waste hundreds of litres of water, even when you've got it running quite slowly. Even if you're just using a bucket and water, you'll need a few of them to remove the soapy residue off the car's body, or you'll end up causing rust or other problems with your paintwork.
In comparison, car washes use high-pressured pumps and hoses to deliver water over your car, which means they need significantly less water to get the car clean. They also give a better clean, and need a lot less harmful scrubbing to achieve a good result.
Because car washes are heavily regulated in Queensland, their water consumption is monitored, and they use the latest and best waster conservation techniques and devices in their operations.
You cause less pollution
When you wash your car at home, the water you use flows into storm water drains. Because it's contaminated with chemicals, and storm water isn't treated before it reaches the outlets, you're essentially poisoning the waterways every time you wash your car in the street.
Even if you wash your car on your grass, the residue soaks into your lawn, and has the potential to either seep into the waterways or cause problems in the tiny ecosystem of your grass—and no matter how environmentally friendly your cleaning products are, they don't belong there.
In comparison, the water generated by car washes is collected in a special commercial wastewater receptacle, where it's treated and held until a professional wastewater company collects it for disposal or repurposing.
Commercial wastewater management is also heavily regulated by the government, and car wash businesses have to adhere to strict regulations and continually demonstrate that they're taking care of their wastewater responsibly.
Without their licences, car washes can't operate—so they're pretty good at adhering to the environmental conditions in them.
You spend less money
One of the surprising benefits of washing your car at a car wash is saving money. Many people believe that you'll save money by doing it yourself, but the fact is for the price of the cleaning products and the time it takes out of your day, it costs less to run your car through a car wash.
Professional car washes use a number of special products specially designed to clean and protect different parts of your car. To get the same quality clean at home, you'd need to buy multiple washes, waxes, polishes, and cleaning tools to detail your car's body, tyres, rims, windshield and windows, dashboard and upholstery.
And besides the cost, that's a fair bit of time you'll spend on the job—time is money, and if you're using time that you could be working or supporting your household,washing your car at home is actually interfering with your income and productivity.
You get a better result
Unless cleaning your car is a hobby or you're really good at it, you're not likely to achieve the immaculate and shining finishes you'll get at a professional car wash.
And unless you're going to invest in a complete suite of cleaning products and equipment—and spend a good deal of time reading up on the tricks of the trade—you're going to get a bigger bang for your buck by leaving it to the experts.
Besides detailing your car to a much higher standard than you could at home,professional car washing involves using products that prevent paint damage and rust—so it's actually better for you in the long run, helping you to maintain your car's body for a longer lifespan and fewer repairs.
It's actually proven that washing at home when you don't really know what you're doing can be damaging to your car's finishes as well—so if you're not an expert, you'll do well to trust people who are.
If car washing isn't your business, visit the professionals at the best car wash in Ipswich. At LuxeWash, we're experts in bringing your car back to life with the highest quality products and the best price for a truly luxurious car wash.
Redbank Plains customers will also enjoy the freedom and convenience of our 24-hour car wash, so drop in anytime or contact us for a clean that's luxe on quality, not on price.